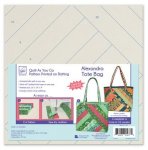 Bags Alexandra Tote Quilt As You Go
Bags Cat's Eye Baskets Kit
Bags Sophie Tote Quilt as You Go
Bags Zippered Cosmetic
Bags Zippered Cosmetic
Clam Shell All Around Kit 64 x 64"

Size: 64" x 64" This beautiful Clam Shell quilt features bright and lively Kaffe Fassett fabric. Kit includes fabric and pattern.



Out of Stock
Daisy Table Topper 55" x 55" Kit
Fall, Leaves, Fall 65" x 74" Kit
Fashion Wine Tote Kit
Getting To Know Hue Kit 96 x 102"

Size: 96" x 102" This beautiful quilt is made out of primary colors designed by Nancy Rink with Marcus Fabrics. Kit includes Book, Laser Cut Appliques Flowers, binding and has white background fabric.


Hi-De-Ho! Picinic Quilt Kit 66 x 78"

Size: 66" x 78" Fabric is circa 1940's with Red, Blue and White flowers and geometric designs Kit includes pattern, fabric and binding.


Household Bountiful Runner 26.5 x 59.5" Kit
Household Hip & Hop 12 x 12" Kit
Household Little Margie's Tablerunner 40 x 16" Kit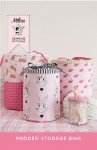 Household Padded Storage Bins Kit
Household Tree Skirt Quilt As You Go
Household Tulip Farm 24" x 64" Kit
Household Venice Placemats Quilt as You Go
Out of Stock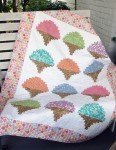 Ice Cream Cone Kit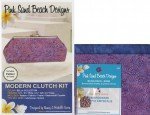 Modern Clutch Starter Kit Various Colors
Nesting Box Kits Various Colors
Out of Stock
Posey Parade Kit
Pot Luck Kit 65.5" x 76.5"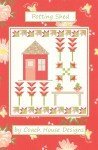 Potting Shed 62" x 74" Kit
Quilt Bevels Kit 53.5" x 71.5"

Size: 53.5" x 71.5" This quilt features a beautiful vibrant flower panel in purple, yellow, blue and green. Kit includes fabric, pattern and binding.


Row x Row Musical 2018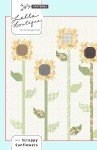 Scrappy Sunflowers Kit 74 x 74"

Size: 66" x 66" This late summer scrappy sunflower quilt is made with all the warm yellows and greens to make you smile when it is completed. Kit includes pattern, fabric, and binding.


Sugar Pine Stars Kit 75.5 X 89"
Summer Runners Kit 22" X 39"
Summer Skinnies Heart Kit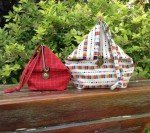 Sweet Sliders Small Kit
Table Runner Quilt As You Go
Tori Tote Quilt As You Go
Twirl into Spring Egg Kit
Twister Tray Pattern, Fabric, Ruler & Moldable Stablizer Kit

Tray Size: 9" x 11 1/4" x 2 1/4" This Pin Wheel Tray is created with the Mini Twister Tool and Heat Moldable Stabilizer. Kit includes everything you need to create this beautiful tray. Pattern, fabric, mini twister ruler, moldable stabilizer, binding a


Wearable Fat Quarter Color Block Skirt Kit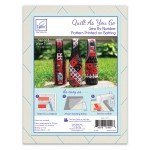 Wine Tote Quilt As You Go (set of 3)